I've just finished viewing the Evolutionary Leaders' "A Call to Conscious Evolution, Our Moment of Choice".  This was a special evening held at UCLA on August 31st.  They had some technical challenges with those of us who signed up to watch the evening event live online so this weekend was our opportunity to view the program with the sound issues resolved.
The roster of speakers at this event were a long list of the "Who's Who" in the evolutionary, quantum consciousness, personal transformation world of thought leaders (see list).  The common message was that we are all living at a unique moment in time, facing global crises.  In this pivotal time, we must consciously evolve or face the danger of extinction.   Gregg Braden gave an impassioned talk and referenced Scientific America's recent cover: "A World of Crisis, Crossroads for Planet Earth…. will we choose to create the best of all possible worlds?"
Deepak was the opening speaker.  He must be one of the most prolific authors/speakers in this area today.  With over 50 books, a radio show, and connections or partnerships with countless, it seems like I'm hearing something from him everyday – whether it's an email, a tweet, his radio show or something I've found on youtube.
A couple of Deepak's significant points were that the only way to transform the world is to transform yourself and that even well-meaning 'activism' is coming from a place of 'outrage' rather than creative consciousness.   Conscious evolution calls for more creative powers.   A couple of hours ago, en route to the Home Depot to pick up paint supplies, I turned on my XM radio and guess who I heard?  Deepak chatting with his pal Stuart Hameroff about Consciousness.  Yippee, my favourite topic!  They were comparing the Vedic concept of pure consciousness being before 'perception and thought' with Hameroff's "proto-consciousness" and how this relates to the quantum super-position idea where observation of a particle collapses it down to one place (just like conscious thought collapses us down to a specific reality).
Sorry, I digress!  Back to the Evolutionary Leaders' event..
Jean Houston gave an energetic view of the evolution of the universe, our planet, life on earth, and humanity, with special emphasis on the "jumps" that caused significant transformation.  She said we need to be the 'creative wellspring' to trigger our new evolutionary path.
Bruce Lipton talked about the collapse and rebirth of various civilizations and reiterated that we now face crises at the global level unlike ever before.  He reviewed four 'Myth Perceptions' that we must overcome to build the foundation for the next civilization where we live in harmony and balance with the universe, with nature.  To give you an idea of his four myth perceptions, he talked about our current understanding that our biological processes employ quantum physics (not classical), that our perceptions can control our biology, overcoming genetic, that rather than the survival of the fittest which says our evolution is driven by competition, it can be driven by cooperation, and that evolution is not just random but adaptive.
There were so many fabulous speakers and the messages all coalesced.  I was thrilled to see Lynn McTaggart of "The Field" and "Intention Experiment" fame talk about the power of intentions and how we must be committed to an "enormous paradigm shift" together, in order to overcome the world's challenges.  I think it was Barbara Marx Hubbard who talked about the physical emergence of a co-created world and introduced a video talk by Marianne Williamson whose message on our evolutionary potential and the danger of a species who has become maladaptive to its environment (yikes, that's us!) was very powerful.
For more information on this organization, the evening event and the conference they are planning for 11/1/11, go to the Evolutionary Leaders web site.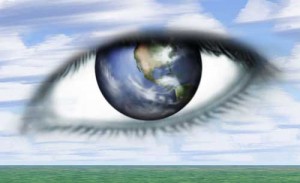 I'm inspired by this event as I continue to discover how best to contribute and consciously evolve – along with these transformational leaders.
Maybe I'll see you there in 2011.