This eulogy for George B Watt was written and delivered by his youngest son, Doug at his funeral on October 10, 2013 in Simcoe, Ontario.
Childhood
George  Watt was born on July 27th, 1925 in Crossett, Arkansas.  His father, James Watt, was a construction engineer by trade, and his mother, Maude, born Eva Maude Moser was a nurse, who served in the front lines during World War 1.  Dad has an older brother of 2 years, Jim, who like dad served in the ministry, spending his life on the west coast of the US.  Jim is not well, and our thoughts and prayers are with him and Marie today, as I know theirs are with us. He also had an older half-brother, Ken, who passed away in the early 1990's.
At the age of four, following the Stock Market crash of 1929, work in Arkansas dried up and dad's parents moved them back to the west coast, eventually settling just outside the Vancouver area, where his dad found odd jobs to provide for his family during the difficult years of the depression.  Dad and his brother Jim spent many, many hours on the farm of Grandpa Gordon, their step-grandfather, in Langley Prairie, BC.  Although money was scarce, these were some of the best times of dad's young life.  While down with dad this past weekend, we found an autobiography that he worked on back in the early 90's.  It has been wonderful to read through it and learn more about dad during his childhood.
As the depression neared its end, Grampa Watt found work at the saw mill in Port, now known as Port Alberni, on Vancouver Island, and moved the family there, where dad spent his teenage years, eventually graduating from Port Alberni High School in 1943.  He always talked with such fond memory of his friends from that time, especially his closest buddy Doug Cronk or Cronkie.  Mom and dad were back 10 years ago for the 60th Anniversary of his high school graduation and they had a great time.
Armed Forces
After graduation, dad enrolled in the Royal Canadian Air Force, along with many of his classmates and was off to training at a base in Alberta, followed by some time in Saskatchewan, eventually being transferred and stationed in Quebec.  During the Quebec Conference of September, 1944, codenamed Octagon, between Churchill and Roosevelt, dad served in the Honour Guard and at one point, as he described it was close enough to take the cigar out of Churchill's mouth, a man that he always spoke of with great respect.  As hostilities in Europe ended, dad was furloughed and, dare I say thankfully, never deployed overseas.
Upon his discharge from the armed forces, at the end of the war in 1945, he returned to Port Alberni, and earned his living as both a truck driver and taxi driver.  But during this time, dad also struggled with direction and purpose in his life and began drinking, at times heavily.
Conversion
At the age of 25, during the Labour Day Weekend, dad rowed his boat out to the middle of Sproat Lake late one night, with the intention of ending it all, when he had what he refers to as his "Road to Damascus" experience, a time when God called him to the Ministry.  Dad turned his life completely over to God that night, and he honoured his commitment to Him right up to the day he passed.  He loved his work on God's behalf.  Amazing Grace was always a special song to dad, because it had such personal meaning for him.
Amazing Grace, How sweet the sound; That saved a wretch like me
I once was lost, but now am found; Was blind but now I see.
We sang that together in dad's room on Sunday afternoon.
Courtship, Marriage and kids
He responded to his calling by enrolling in Northern Seminary in Chicago in the fall of 1951.  He left Seminary after first year and went to Vancouver, where he worked in a funeral home as an usher (yes, can you imagine someone as bright and chipper as dad welcoming you to a funeral?  At one point, as he tells us it, he was asked to tone down the smiling a little bit).  Regaining his purpose, he returned to Northern in the fall of 1953, and this is where the fun part starts.  In the spring of 1954, once dad discovered that his good friend Herbie Cassels was not going to ask a beautiful young nursing student that dad had first met the previous fall by the name of Helen Rae Gaines, from Paw Paw, Illinois to the spring banquet, dad made his move (after taking his sweet time getting his courage up).  They had their first date on March 28, 1954.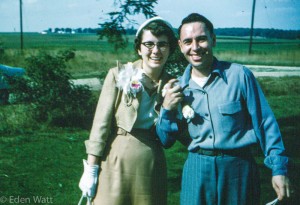 Following a brief (very brief) courtship, they were engaged and then married in mom's hometown of Paw Paw on August 21, 1954, having just celebrated their 59th wedding Anniversary.  Dad graduated from Northern in May of 1957, along with good friends Bob Vaughn – he and his wife became Uncle Bob and Aunt Joyce to us, and Bill Brantingham, who along with his wife became Uncle Bill and Aunt Bert.  Before graduating  and leaving Chicago however, they had their first son, Bill, followed, over the next nine years by Dave and Gord in Trail, BC, home of dad's first church for four years, and Mary, Bob and yours truly in Moose Jaw, Saskatchewan, where he served for five years.  From Moose Jaw, it was further east to Fort William Baptist Church for five years, and then on to Heron Park Baptist Church in West Hill, where mom and dad became grandparents for the first time, as Bill had his first son Ken.  Fifteen additional grandchildren followed, along with two great-grandchildren.  As many of you know, Madeleine, following a fight full of grace, dignity, and strength, not unlike her granddad's left us in April of 2004, and I hope that Madeleine and dad are now together and both here with us today.  Churches followed in Ingersoll for ten years, and then Mississauga and Ignace and finally in Vittoria for semi-retirement, before dad ended his formal pastoral years in 2004 when he and mom settled in Simcoe where they have lived happily until dad's passing on Sunday.
Pastoral Record
Dad kept a Pastoral Record through the years of his Ministry, recording among other things every Baptism, Wedding and Funeral he presided over.  Some of you may be in here.   And every Sermon he delivered, from his first on September 8, 1957 entitled "Emmanuel – God with Us", with the text of Matthew 1:23; right through to his final sermon, 122 pages and 47 years later, on April 25, 2004, entitled "You're Great, Because He is – Jesus Christ", drawing on the text of Collosians 1:1-18.
For those of you from the church here, I can't tell you how much it means to me and my brothers and sister, how much George and Helen are loved here.  They think so much of all of you.  Your kindness and generosity during dad's physical struggles over the past years have been awesome and we thank you sincerely for it.
Vacations
Dad loved to travel and to drive.  He even kept a record of all of our and their vacations beginning in 1958 through to 2001 in his Pastoral Record. He was at home behind the wheel.  He recalled fondly his days driving truck or taxi, or even driving the miners up to the mine on the bus when he is was in Ignace.  But for me, when I think of dad and driving, I think of our summer vacations.  We would climb in the car and we would go… and go… and go.
Toronto to Thunder Bay was a common first day.  It usually only took about 20 hours or so, with a stop in Wawa for a five minute bathroom break of course.  Station wagons were pretty much the only option available for a family of eight.  That would be dad and two of us in the front seat, mom refereeing with two of us in the middle, and then two of us lying down in the back, along with all of the luggage.  This was before the seat belt laws of course.  Good thing, as summer vacations are some of my favourite childhood memories.  Growing up, we didn't have a lot of money, so hotels for eight were out of the question.  Picture this if you will.  You look out your front window and a station wagon pulls in the driveway; and out pour the Watts… eight of them.  "Oh Good!  The Watts are here… for the next four days"; and so it went, usually for anywhere from four to six weeks just about every summer.  The Trendiaks in Thunder Bay; Grandma House and Grace in Moose Jaw;  The Rapleys in Trail; Uncle Bob and Aunt Joyce in Mill Bay and Sproat Lake; our newfound cousins the Mosers in Moser River, Nova Scotia; Uncle Bill and Aunt Bert in Marion, Ohio and of course Uncle Russ, Uncle Chet and Aunt Sarah  (bless their souls) along with Connie and Cheryl ( our buzzin' cousins who are thankfully here with us today) and Chet Jr. in mom's hometown of Paw Paw; Aunt Mary and Uncle Earl with Mark and Earl in Morrisville, Vt;  the last 2 feeling like second childhood homes to me.  There are more – many more kind, generous people that "took us in"; opened up their homes and their lives and made us feel welcome.  For me, summer vacations provided some of the best, longest-lasting memories of my life.  And while there will be different memories for my siblings because of our ages, I know they have similar feelings.
Dad never met someone that he didn't consider a potential future friend for life.  Often on our trips, we would pull in to a rest stop for a picnic lunch.  Dad would conveniently "forget" the salt and pepper in the car, simply for the opportunity to make the acquaintance of the people at a nearby table, so he could hear their life story and share some laughs with a new friend, then come back and join us 10 minutes later so we could climb back in the car and be on our way.  That happened more than once.
Visiting
Meeting people and talking to people was what he loved most about being a Minister.  Yes he loved being in the pulpit, and yes he generally enjoyed the workings of the church (at least some of it), but where dad was most comfortable and where I believe God most used dad's service, was when he was out visiting and sharing with people.  He loved it.  He lived for it. He fed off it.  He would have loved yesterday – a chance to visit with so many people that meant so much to him.  When we were all younger, we had the privilege of accompanying dad as he made his rounds, whether it was Trail, Moose Jaw or Thunder Bay.  My brothers and Mary and I had access to toys and cookies and candies in houses throughout the church family.  I think dad knew that children helped put people at ease and were a way of helping them open up during dad's visits them.  It was also his way of giving mom a much-needed break at home but of course the real reason is it meant that he didn't have to come right out and ask for a cookie himself.   A friend from Ingersoll recently shared with my brother and sister that the reason they attended the Baptist Church is because shortly after moving to Ingersoll, they made the rounds to several of the churches, and Pastor Watt came out to visit them immediately following the week they attended.  He made them feel wanted and welcome.  Dad made sure he did that with every person that turned up in his church for the first time.
Long after he retired, dad would still tirelessly go out and make the rounds at nursing homes and the hospital, offering kind words, comfort and optimism to many, many people.  Pastor Raymond shared a wonderful story with me at the hospital this past weekend.  He said that while he was out doing his visitation over the last several years, he would sometimes ask people if others had been in to see them over the past week, and people would tell him "Pastor George".  Pastor Raymond, it has been great spending time with you and sharing with you.  You are a special person to my mom and dad, and I am glad that you have agreed to share at dad's service today.  You remind me of my dad…
Letter Writing
Dad loved to write letters.  A lot. Seriously, a lot. He viewed it as part of his job as a minister.  Correspondence with literally hundreds of people, dare I say thousands, for years hand-written and later on, on his ultra-modern electronic typewriter.  Christmas letters went out each year, sharing with everyone the events of the past year in the Watt House.  I remember being on stamp or envelope duty early on.  It was quite an assembly line getting letters folded, stuffed (and licked,  yuck) and stamped and then  shipped out.  Starting in the early 90's, he began the monthly family epistles.  Early every month, without fail, we would receive a letter from dad.  In it was a one-page type written letter, with brief summaries of each of the six of us and our families and our news they had gleaned through phone calls or visits along with a summary of their month.  This carried on right up until dad's shoulder injury back in January 2011, and it always included a short hand-written note from mom or dad, or often both, and more often than not pictures of cats from one of his latest daily cat calendars.
How many of you received a postcard from dad?… that took, oh I don't know, ten minutes to read… in part because you couldn't actually read it without a magnifying glass, but mostly because there was the equivalent of two pages of writing on it.  Not a lot of "Wish you Were Here" cards where dad was concerned.  Between his scotsman blood and his growing up through the depression, he made sure he got his money's worth out of everything.
Sayings
As we all know, dad had a lot to say… and a very special, uniquely George way of saying it.  I'm not sure which dictionary he used, because it was one that I've never seen before.  And he had a never-ending supply of special sayings, some of which he offered up free of charge to his grandkids to use in their dating pursuits.  One of my kids' favourites was "Hubba, hubba ding, ding; baby you've got everything".
He had one for just about every occasion.  At least one.  Some of my and my family's other favourites:
For dinner time:  "Apple pie without cheese, is like a kiss without a squeeze".  He had a slice of cheese, preferably old cheddar with every piece of mom's delicious apple pies.
Or "I scream, you scream, we all scream for ice cream".  That went pretty well with the pie too.
Or if he were upset about the outcome of something:  "wouldn't that rot your socks".
I'm sure everyone has their own personal favourite. With dad it was never just the words, it was the delivery.  He had a twinkle in his eye and a happy, earnest way that he delivered these lines, with the possible exception of "I'll give you something to cry for".  With six kids in nine years, it wasn't always just smiles and happiness.
Closing
In closing, I leave you with who my dad was to me.  He was an incredibly loving and giving person, not in your face loving, not just "let me tell you how much I love you" loving, but more "let me show you how much I love you".
He was a dad who always made time for his kids and grandkids.  He came to my hockey games, just about all of them, and there were lots.  For out of town games, he would often make sure he was available to help drive.  My teammates and their fathers thought dad was the greatest, as I heard from many of them when I was older.  He sat out there with the other dads, never preachy, never pushy, but they recalled that there something unique and special about him and the way he carried himself.
He was a Minister, who in his own words said "I loved the Ministry".  Because there was very little distinction between George the man and George the Minister, his approach was the same, as he delivered a message of love and generosity, not one of judgment.  He walked a fine line sometimes of doing what he felt some in the church expected of him as their Minister, and what he knew God expected of him.  In his wake he left thousands of people who all agree there is no one else quite like Pastor George.
He was a husband who loved his wife, dearly.  I had the pleasure of sitting with dad last Tuesday after he had been admitted for the final time. I knew that I would probably not have much more time with him, so I brought a voice recorder to capture some of his final thoughts.  He told me, with his voice breaking that "I had the best pastor's wife a man could ever have… and a great mom too".  He was right on both counts. We are privileged to have our mom.
He was a man who cared about others and what they were up to, more than himself.  He never complained about his own problems.  Whenever I talked to him, he would recall from our previous conversations, anyone that was sick or had a problem, or was facing some kind of upcoming event, and he would ask about them, without fail.  On Friday night when my wife Eden and I went to see him in the hospital, his last words to her, when he could barely talk were "How's your dad?"
He was a man that appreciated his life and felt blessed.  Gord and I were down in early September, and I think dad knew the end was not far off.  He kept telling us how lucky he was to have such a great family, to have such wonderful kids and grandkids, such great friends, to have such a great wife.  I was blown away by the state he was in, despite what was happening to his body.
He was Dad, Granddad, Mr. Watt, he was Pastor George, sometimes just George.  He was a humble, yet oh so effective servant for God.  He was my dad, and I loved him, and I will miss him.
Note: A sentence I wrote and wished I had included:  Dad's greatness was defined not by the big things that he did, but by the huge number of little things that he did.