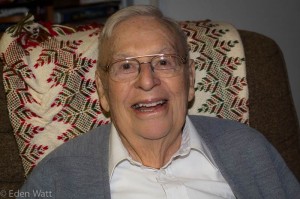 My father-in-law, George Watt, passed away last night at the age of 88. He has been surrounded by family all weekend, as he lay unconscious in his hospital bed in Norfolk GH in Simcoe, Ontario, after a week of steady decline and failing health over the past year.  George was a unique character and one that few will forget if they were fortunate enough to know him.   He loved life and he loved people, and rarely let anyone come within his 'orb' without engaging them in conversation with his boisterous goodwill and keen interest in their lives.  With six kids (with wife Helen), sixteen grandchildren,  two great-grandchildren and thousands that he touched in his journey as a Baptist Minister in churches throughout Canada, he will be remembered fondly by many.
My husband, Doug, will be giving the eulogy at his funeral on Thursday and we will post it here afterwards.
This is the link to George's obituary and details inserted below:
Watt, George B. "Pastor" George went home to be with his Lord peacefully in his 89th year at Norfolk General Hospital on Sunday night. He is survived by his wife of 59 years, Helen (Gaines), his six children; Bill of Barrie; Dave (Yanelis) of Toronto; Gord, of Toronto; Mary Lehto (Adam) of Waterloo; bob Paterson-Watt (Myrna Joy) of Toronto; and Doug (Eden) of Aurora. Also 15 grandchildren: Ken (Lisa), Trevor, Jordan, Perry, James, David, Zoe, Tyler, Raeann, David, Lisayda, Genevieve, Michael, Erin, Christian; his brother Jim (Marie) of Federal Way, Washington. Two great grandchildren, Dillon and Alexis. Also many nieces and nephews. Predeceased by granddaughter Madeleine, 2004 and by his half-brother, Ken. He was born to Jim and Maude (Mosher) Watt at Crossett, Arkansas on July 27, 1925. Moved to Vancouver, BC in 1929 and then to Port Alberni where he graduated from high school in 1943 before enlisting in the RCAF. He received his commission as a WAG in 1944. After discharge he returned to Port Alberni. In 1951 he entered Northern Baptist Theological Seminary in Chicago, graduating in 1957. While there he and Helen were married. Over the next 47 years they served 8 churches – Trail, BC; Moose Jaw, Sask.; West Hill, Ingersoll, Mississauga, Ignace and Vittoria ON, retiring at age 79 in 2004. They moved to Simcoe where he continued his ministry of visitation until he became ill this past year. He will always be remembered by his family and countless friends as a man who loved his Lord, and for his love of life.