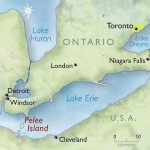 Pelee Island, located in Lake Erie, the southern-most town in Canada (at the same latitude as N.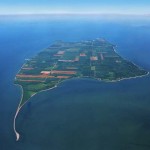 California), has long been a place of curiousity for me.  It started with the tales of butterflies by the thousands passing through on their migration journey although, perhaps the notion of visiting the winery helped as well.  Or maybe it was the picture of the monarch butterfly on the Pelee Island wine bottles… anyway, I really wanted to check this place out – and so we did.
The roadtrip to Pelee Island involved an overnight stay at the Windsor Casino so that we could get to the ferry in Kingsville early in the morning.  An hour and a half ferry ride and we arrived to a scorching hot day on the Island.
I have to confess to some disappointment at not being swarmed by butterflies upon my arrival. (No doubt,  a naive expectation). Certainly, over the course of our visit, I did see a number of butterflies, mostly Monarchs, a couple of yellow Swallowtails, and lots of smaller ones in gardens and around the island but we were early for the migration.  And apparently Point Pelee (the conservation area on the mainland) actually gets the larger swarms during the migration period in later September.
Pelee Island is a quaint little island without a town centre.  There are smatterings of inns and restaurants, one gift shop, and of course, the Pelee Island Winery.  We did the obligatory tour which was most interesting when we got out of the heat and into the cellar to sample the wine.  I quite enjoyed the Pinot Gris and Gamay Noir, both of which were purchased and since enjoyed at home.
As we were on the Island mid-week and there were limited restaurants and especially gluten-free options, we left early on our day of departure to check out Point Pelee Conservation Area.  Not enough time, too much to see.  I definitely want to return there for a visit when the butterflies are passing through in either fall or spring.  One of the highlights of the trip was the Point Pelee Marsh and Boardwalk as you will see in one of the photos below.  Absolutely breathtakingly beautiful!