As noted in previous news items, doctors recommended that I undergo surgery to remove my thyroid gland due to a 4.1cm nodule that was "suspicious for papillary carcinoma" based on a fine needle aspiration biopsy.  I had the surgery on Sept. 4th, 2013 and this lovely picture is one week post-surgery.  The scar is healing nicely although I am still feeling a bit shaky but that is apparently as expected.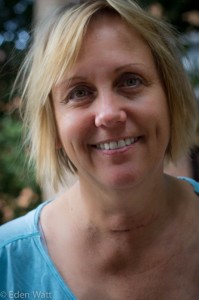 Surgery is an assault on the body and recovering from it is never fun but as these things go, it went well.  My voice is still little more than a whisper which is frustrating but I am told to be patient (not my strong suit) and my calcium levels are low so I'm taking supplements for a couple of weeks. They took some samples of lymph nodes outside the thyroid to biopsy during surgery and these were apparently all clear.  I am waiting for the pathology report of the analysis on the excised thyroid and tumour.  If it turns out to be malignant then I will need to do radioactive iodine treatment.  One step at a time but I guess if that's what I have to do, I will.  Recovery and prognosis from this type of cancer is extremely positive so there is no reason to panic if that's what it is..
As I've been going through this and sharing my situation with others, I have discovered just how common this is and that many people have sisters or friends or themselves who have experienced something similar.  I was diagnosed with hashimotos thyroiditis at 16 so I've been taking levothyroxine pills most of my life, already.
I am very appreciative of the well wishes, "angels", cards, gluten-free muffins, and other positive energy that has been sent my way from so many.
During this downtime, reflecting on how to get myself healthy, I picked up "The Complete Thyroid Book" by Kenneth Ain and Sara Roshenthal which I have found very helpful.