This coming Friday, December 2nd, come to the Book Launch and Book Fair at the York Simcoe Literacy Council in Newmarket.  For more information, visit author Heather Lambert's site at http://cassiusvampire.com/news-and-events
I will be onsite to sell my novel, "Vision Speak" (www.vision-speak.com), along with other local authors.  As this is Heather's book launch, she will do a reading from Cassius Blood Rights, her new vampire novel, at 6pm
======================================================================================
The Blue Mountain Foundation for the Arts (www.bmfa.on.ca) in Collingwood is a juried show featuring creativ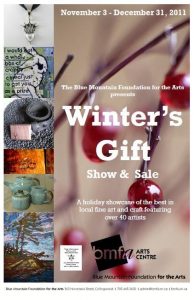 e work by local artists and artisans.  "Vision Speak" is available for sale at this show during November and December of 2011.
WINTERS GIFT
November 3 to December 31st –  The Arts Centre
The Blue Mountain Foundation for the Arts presents Winters Gift, a fine art and craft show and sale. Opening on November 3 and running until December 31, 2011 the show includes the work of over 30 of the regions talented artists and artisans. Pottery, jewellery, woodworking, glass, painting and more will be beautifully presented in the historic Arts Centre building adjacent to the Gayety Theatre. Support local arts while taking home an exquisite one of a kind gift.
The Arts Centre will be open Wednesday through Saturday, 11 – 5 pm and Sundays 1- 4 pm.
========================================================================================
Check out the beautiful photographs of water at
http://chasingthelight.photoshelter.com/gallery/WATER-WATER-EVERYWHERE-WINNERS/G0000yjGgxOuAi8c/
  I was delighted to discover that my photo Apple Rapids was a runner up in this competition amongst so many amazing pictures..