The first Winter Youth Olympic Games will begin in Innsbruck, Austria on January 13, 2012.  I will be travelling there with a family group next week to watch the games, experience the skiing, scenery, and villages in the Tyrol area of Austria but most especially, to support our niece who is representing Canada for Alpine Skiing.
Roni Remme is just 15 and has already demonstrated that she is someone to watch.  She is one of only two young ladies chosen for the Canadian Youth Olympic Team for Alpine Skiing, and in the youngest age possible for this event.
Her 'fan club'/family will be sporting red and white hats knit by her maternal grandmother and red sweatshirts with the following graphic (of her competing in the Whistler Cup), purchased by her paternal grandfather.  I do hope we don't embarrass her too much.  🙂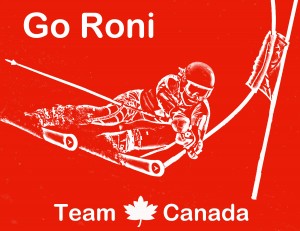 I'll publish updates from Innsbruck on Roni's and other Team Canada results as well as any new adventures.  The famous Kitzbuehl downhill race will be happening nearby, while we are there so we may go watch that, as well.
Go Roni!
To keep track of events and schedules, here are some URL's:
http://www.innsbruck2012.com/en
The athlete list can be found here:
http://www.innsbruck2012.com/en/sports/athletes
http://www.innsbruck2012.com/en/sports/athleten/103444_remme_roni
and results on the FIS site:
http://www.fis-ski.com/uk/604/1228.html?event_id=30465&cal_suchsector=AL